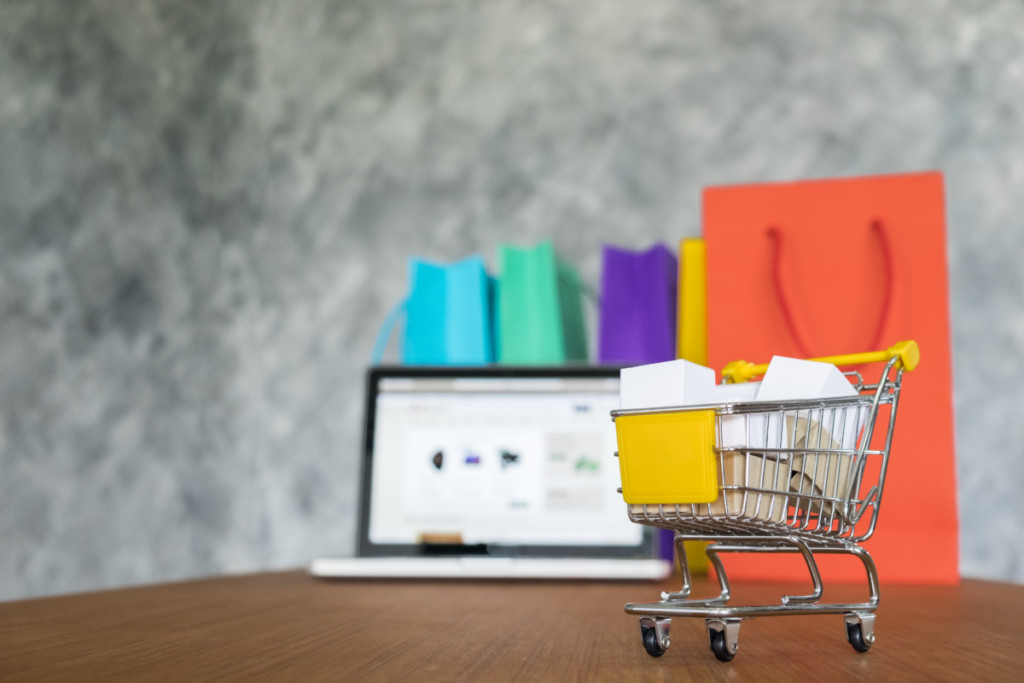 Retail Trends 2021
le 12 July 2021
Retail is at the heart of a double revolution, digital and societal.
For better or for worse, the covid crisis has not only put the sector in the face of a vertiginous acceleration of digital, but societal changes, already at work before the start of the pandemic, have only strengthened.
If, before the crisis, consumers already wanted to regain control of their purchases, aided by technology and its multiple applications, this desire to give meaning to their consumption has been clearly accelerated by the Covid and involves many in-depth transformations at retailers.
The latter had to adapt their activities:
Online, by initiating an express digital transformation, to compensate for the closure of their stores.
Off-line, by offering customer experiences, without contact (payments, click & collect, etc.), without losing efficiency or importance.
Phygital
Logistics
Sustainability has also become a hot topic
ON-LINE
Social Commerce
Consumers can now shop directly on social media. Social networks guarantee a more emotional shopping experience. The relationship of Internet users with the product is strengthened and more fluid. The barriers to purchasing are reduced, and payment terms are increasingly easier. This integrated shopping feature allows consumers to purchase products without leaving their social accounts. With one click, the purchase is made!
Live Shopping
Some brands that have grasped the importance of social commerce are putting live shopping at the center of the experience offered to their customers. The pandemic has pushed brands, with very varied profiles, to try it out, to keep in touch with their customers and ensure a minimum of sales. Live streaming enables elements of physical sales to be recreated online. The user has a live shopping experience where they can step in to ask questions and get advice in real time.
OFF-LINE
Click & Collect
Rise of the "drive" and "Click and Collect" (omnichannel strategy that combines online and offline commerce). Users select and / or buy their items online and pick them up at a convenience store. This system has enabled merchants to counter marketplaces, by remaining open to serve their customers without letting them enter the store.
Cashless stores … the contactless shopping experience
New concepts of convenience stores (Ximiti, BlackBox, etc.) abound everywhere, offering a wide range of everyday consumer products, accessible 24 hours a day, 7 days a week. Product scan, telephone payment and checkout receipt before leaving the "store".
PHYGITAL
Combined experience, between physical and digital. It helps generate in-store traffic, streamline the purchasing journey and boost online visibility. Mobile is one of the key tools in this reinvention of the point of sale. It allows you to control your in-store purchases like a remote control. Personalized and augmented shopping experiences are on the rise!
Augmented Reality
A real revolution in the customer experience, in stores and on the Internet, augmented reality is now involved in various stages of the sale of a product. It can be used, to help consumers try on makeup or clothing via an app, to guide them in their purchases and to reserve these products. It can also be used to visualize household items and furniture in the space they are intended for.
61% of American consumers say that augmented reality has had an impact on their choice of online store. Additionally, 40% of them said they would pay more for a product if they could experience it through augmented reality. (* McKinsey)
Hyper personalization
Today, as the offerings multiply, the customer experience must be optimal to be able to make a difference. Some brands use the personal, behavioral and transactional data of customers in order to offer them tailor-made products or services, 100% adapted to their morphology or their expectations.
Surveys have shown that 79% of retailers invest in personalization tools. Tech startups are helping tackle this new trend. They help, for example, brands to build bridges between e-commerce websites and traditional stores.
Transparency and speed
Consumers, especially the younger generations (= millennials / GenZ) expect a seamless and identical experience, whether they buy online, offline, or through a mix of these two channels. Brands can take advantage of solutions from these startups, such as order and inventory management software or even last mile delivery solutions.
The pandemic has also highlighted the risks presented by supply chains that are too long, or production that is too far away. By expanding their portfolio to local suppliers, retailers are not only ensuring that disruption is minimized but also responding to the growing consumer interest in locally sourced goods that support their own communities.
RETHINK LOGISTICS
The start of the pandemic was marked by empty shelves of stores and the shortages of many basic necessities, which gave all meaning to the logistical challenges. Consumers have changed their habits dramatically and 84% of them have made purchases online during this time. The key to retailers' success now rests in part on the supply chain, which should enable them to gain in efficiency, safety, ecological responsibility, but also speed. For more than 62% of consumers, for an equivalent product or service, delivery is the key element in decision making.
Premium delivery offers
Another notable innovation, the English distributor Tesco tested in October 2020 the delivery by drone, used today to deliver health products and which could become more democratic in the future.
Blockchain at the service of logistics
2021 is the logistics transformation's year. Logistics efforts complemented by artificial intelligence ensure better tracking to increase delivery speeds, improve efficiency and achieve significant savings. Impossible, therefore, to miss this trend for which brands are pursuing significant efforts.
SUSTAINABILITY, ESPECIALLY IN THE PACKAGING!
In retail, sustainability has been undermined by the pandemic. It is, however, always at the forefront of customers' minds. Surveys show that several age groups consider sustainability to be an important issue in retail and e-commerce.
Indeed, an Adobe study reveals that nearly two-thirds (63%) of Gen Z consumers prefer their purchases to be delivered in environmentally friendly, recyclable or compostable packaging.
55% of American consumers (* McKinsey study) are extremely concerned about the environmental impact of product packaging. 60 to 70% of them said they were prepared to pay more for sustainable packaging. Packaging innovation is therefore increasingly recognized as a priority for brands.
OTHER TRENDS TO SERIOUSLY BE FOLLOWED SERIOUSLY
The ReCommerce boom (or second-hand market)
With the pandemic, another vision of shopping emerged, guided by a certain idea of frugality. This trend is notably driven by the change in consumer behavior, increasingly inclined to add sustainability to consumer products. The trend is no longer for new products but for Recommerce, in other words, second-hand commerce!
Recent studies predict that the market will double over the next five years. The stakes are high and the market colossal. Many brands have also redesigned their models and their offers.
According to Kantar, between September 2019 and September 2020, 29% of French people bought second-hand clothes, shoes or accessories. That is 10 points more than in 2018. If Leboncoin, Vinted, are pioneers in the field, many brands and specialized stores have also recently started: La Redoute, Aigle, Promod, Kiabi, Bash, Zalando, Veepee or Cdiscount, but also distributors like Auchan or Carrefour. This second-hand breakthrough can be found in other categories such as high-tech and electronic products. Back Market or Recommerce see their sales increase each quarter.
In the sport's world, Decathlon is experimenting with the resale of second-hand products, as well as rental. This trend goes hand in hand with the second hand, consumers no longer need to own the items. The rental mode offers them more flexibility without overconsumption.
Brand engagement
Consumers no longer hesitate to modify their purchases, depending on the commitments of brands and retailers. "I am what I consume" is adopted by a large majority of consumers today. Brands must, therefore, imperatively define the values they want to transmit and claim them in order to develop and unite a real community.
83% of French people expect brands to engage in subjects directly related to their business and more general subjects (54%). A trend perfectly integrated by retailers, who one after the other are announcing measures to, for example, reduce their carbon footprint, by adopting a more ecological approach.
Conclusion
Most of the trends, mentioned above, are must-haves for brands. In particular, those aimed at younger generations of customers such as millennials and Gen Z. They all show to what extent the crisis has exacerbated the evolutions, and the societal pressures, which force them to transform in depth and to innovate in their markets.
The key, for them, will be to continue to focus their attention and investments on digital tools and solutions.