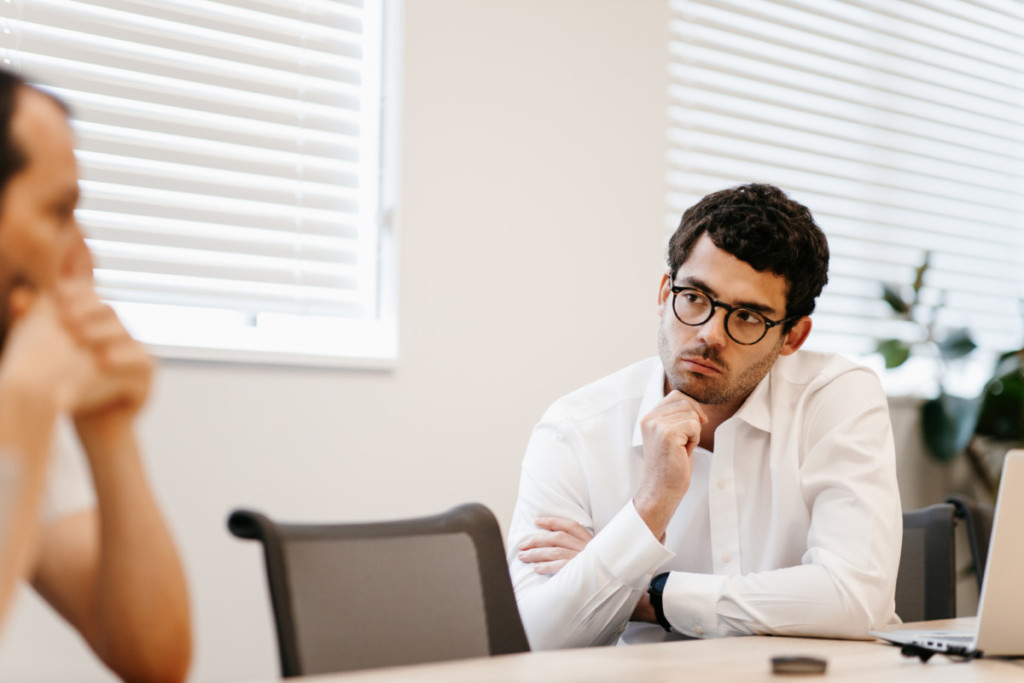 [Meet the Team] Arthur, our VC Analyst
le 22 May 2021
Analyst in a venture capital investment fund! We immediately have Excel tables and Business Plans in mind. Far from it, however, this profession is played above all in relationships, meeting those who carry the projects of tomorrow and seek support to implement them. Finance ? Obviously you need the basics, but that's not the most important thing. Arthur is a VC analyst at OBRATORI, specializing in financing and supporting startups in Wellness, Digital, Tech For Good and GreenTech. He tells us how he combines his passion for innovation and entrepreneurship on a daily basis.
What is your role at OBRATORI?
My job as a VC Analyst is, to identify startups, that correspond to our investment thesis, to meet passionate entrepreneurs, to finance their seed project, and to support them in their development.
My role revolves around 3 major axes:
First of all, the sourcing. We receive applications from startups that are looking for funds and above all for support and a strategic shareholder. My role is, to source young companies, in their early stage, which share our values and with which we see ourselves collaborating. My job is to do a 1st filter to qualify each company. I analyze and select investment opportunities for presentation to the selection committee.
Then, we push towards an in-depth study, we go into detail. I go through the financial elements, I analyze their business models, their markets. We meet the founding team, and we establish a relationship of trust with them, that's essential! I do this in tandem with Delphine [Oung], investment manager. It is in this more analytical part that we will immerse ourselves in the startup's world, understand its market and its competition, test its product / solution, validate its financial package, its documentation, etc …
Once we have invested, we support startups. We make regular updates, follow-up meetings, we participate in their GA. Our promise is to be at the entrepreneurs' service, to help them, on a case-by-case basis, by answering fundamental questions and their problems, to provide them with advice, expertise and all the contacts that we can activate to see their project develop.
Do you work alone or in a team?
I work as a team, with Delphine [Oung], Amaury [Godron] and Ingo [Dauer] Managing Directors, but also with the Communication / Marketing team, together we study the trends specific to the target sectors, consumption practices, etc.
We exchange, we share, we reflect all together. Decisions are made with the entire OBRATORI team, but the analysis work is done in pairs.
What is your typical day like?
My days always begin, with a glance at the news, what is happening in the world at startup level, innovation and economy, in general, an active watch on what we are looking for, in packaging, cosmetics / well-being, in food, etc…
There is not necessarily a typical day, even if there are patterns. For example, every month with Delphine, we prepare our investment committees during which we present the different companies that we have sourced.
My days are a balance between study and analysis work [behind my computer], and human support, providing answers to the issues encountered by "our" entrepreneurs.
What brought you to this job?
I have always had a taste for numbers and a passion for innovation and new technologies.
I always try to be insightful, forward-thinking, and "play" one step ahead.
Working for a venture capital fund, between entrepreneurship and finance, seemed obvious to me. This was confirmed during my end-of-study internship at OBRATORI.
What do you love most about your job?
What I appreciate most is not having a typical day. There is no routine, the topics are varied. I'm constantly learning, it's super enriching.
I follow the innovation's evolution closely and I can combine my appetite for finance with that.
In addition, I really enjoy meeting entrepreneurs who are passionate about what they are creating, people keen to develop meaningful innovations. Supporting them is extremely rewarding and informative.
It's great to be able to say that we are putting a "boost" on models of the future.
A final word to encourage entrepreneurs to join us?
I'll tell them to go for it, believe in what they are doing and, truly embody the project they represent!